Up to 12 encoding channels
Inputs: 4/8/12 HDMI, supporting HDCP
IP Output: 1/2/3 MPTS and 4/8/12 SPTS, unicast/multicast
HD Encoding of up to 1080p@60Hz

Description
Ordering Info
Description




The ADV-8106 is AdvancedDigital's newest encoder, utilizing the latest high quality, low bitrate H.265 High Efficiency Video Coding (HEVC) technologies.
This next generation encoder allows content creators encode HD content while maintaining the current data bandwidth and storage requirements they've enjoyed with previous generation H.264 encoders.
This allows operators to improve video quality without having to massively upgrade their entire network bandwidth and storage.
Standard TS/IP output ensure that the encoder's output can be fed into the existing broadcast infrastructure.
To be used as input to modulators, multiplexer's, IRD's, and storage servers.
                                             BLOCK DIAGRAM FOR ONE MODULE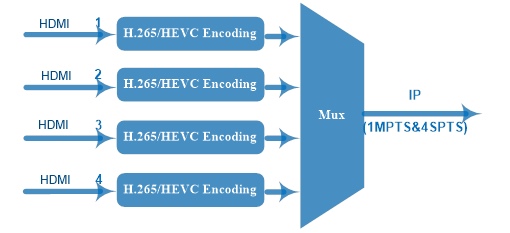 Key Features
Low bitrate encoding without compromise on quality
Full HD 1080p encoding of up to 1080p@60Hz
4/8/12 encoding channels H.265 or 2/4/6 encoding channels H.264
Supports Noise Reduction, De-interlacing and Sharpening functions
4/8/12 HDMI inputs, HDCP support
Web control
Specifications
Inputs
4/8/12 HDMI inputs (1.4), HDCP 1.4 support
Video

Encoding

Encoding Format

H.265/HEVC, H.264/MPEG-4 AVC

Resolution
Input/Output:
1920×1080@60P, 1920×1080@59.94P, 1920×1080@50P
(encoding 4/8/12 channels for H.265 or 2/4/6 channels
for H.264);

Input:
1920×1080@60i, 1920×1080@59.94i, 1920×1080@50i
Output:
1920×1080@60P, 1920×1080@59.94P, 1920×1080@50P
(encoding 4/8/12 channels for H.265 or 2/4/6 channels
for H.264);

Input/Output:
1280×720@60P, 1280×720@59.94P, 1280×720@50P
(encoding 4/8/12 channels for H.265 or H.264)

Chroma
4:2:0
Bitrate
0.5Mbps~20Mbps (each channel)
Rate Control
CBR/VBR
GOP Structure
IBBP, IPPP
Advanced Pretreatment
De-interlacing, Noise Reduction, Sharpening
Audio Encoding

Encoding Format

MPEG-1 Layer 2, LC-AAC, HE-AAC, HE-AAC V2

Sampling rate

48KHz

Bitrate
48Kbps~384Kbps (MPEG-1 Layer 2 & LC-AAC)

24 Kbps~128 Kbps (HE-AAC)

18 Kbps~56 Kbps (HE-AAC V2)

Audio Gain
0~255

Stream output

1/2/3 MPTS and 4/8/12 SPTS output over UDP/RTP/RTSP, 1000M/100M Base-T Ethernet interface.
Supporting unicast and multicast. IP null packet filter

Control

Web based management and firmware upgrade

Other
Dimension (W× L× H)
482mm×328mm×44mm
Approx weight
5kg
Temperature
0~45℃(operating),  -20~80(storage)
Power
AC 100V-220V±10%, 50/60Hz
Ordering Info
ADV-8106-4  –  H.265/H.264 HD Encoder with 4 HDMI inputs
ADV-8106-8  –  H.265/H.264 HD Encoder with 8 HDMI inputs
ADV-8106-12  –  H.265/H.264 HD Encoder with 12 HDMI inputs
Related Products