Description
Ordering Info
Description
The ADV-8102 is a high quality 2-channel pro video/audio encoder suitable for broadcasting applications. Configure up to two encoding channels that can be selected from an option of SDI with embedded audio or HDMI with embedded audio or CVBS/HDMI/YPbPr video inputs and unbalanced audio inputs.
For video the encoder supports MPEG-2 and H.264 video encoding and MPEG-1 Audio layer 2, LC-AAC, HE-AAC and Dolby Digital AC3 for audio encoding.
ADV-8102 has 2 ASI outputs and IP output port. Two encoding programs can be output as two SPTS or one MPTS.
ADV-8102 has an ASI input and can multiplex the input TS with the 2 encoded programs to generate a MPTS output.



Key Features



Select from SDI or HDMI or HDMI/CVBS/YPbPr video inputs
264/MPEG-4 AVC and MPEG2 HD/SD video encoding
Encode up to 1080p for H.264 and up to 1080i for MPEG-2
MPEG1 Layer 2, MPEG2-AAC, MPEG4-AAC, Dolby Digital AC3 audio encoding
2x ASI outputs (MPTS or 2x SPTS)
IP output: MPEG-TS over UDP, RTP/RTSP
CC (closed captioning), EIA 608 and EIA 708 for SDI interface
ASI input, Built-in multiplexer
Low Latency function
PSI/SI editing and inserting
IP null packet filter
VBR/CBR video encoding
LCD / keyboard and web control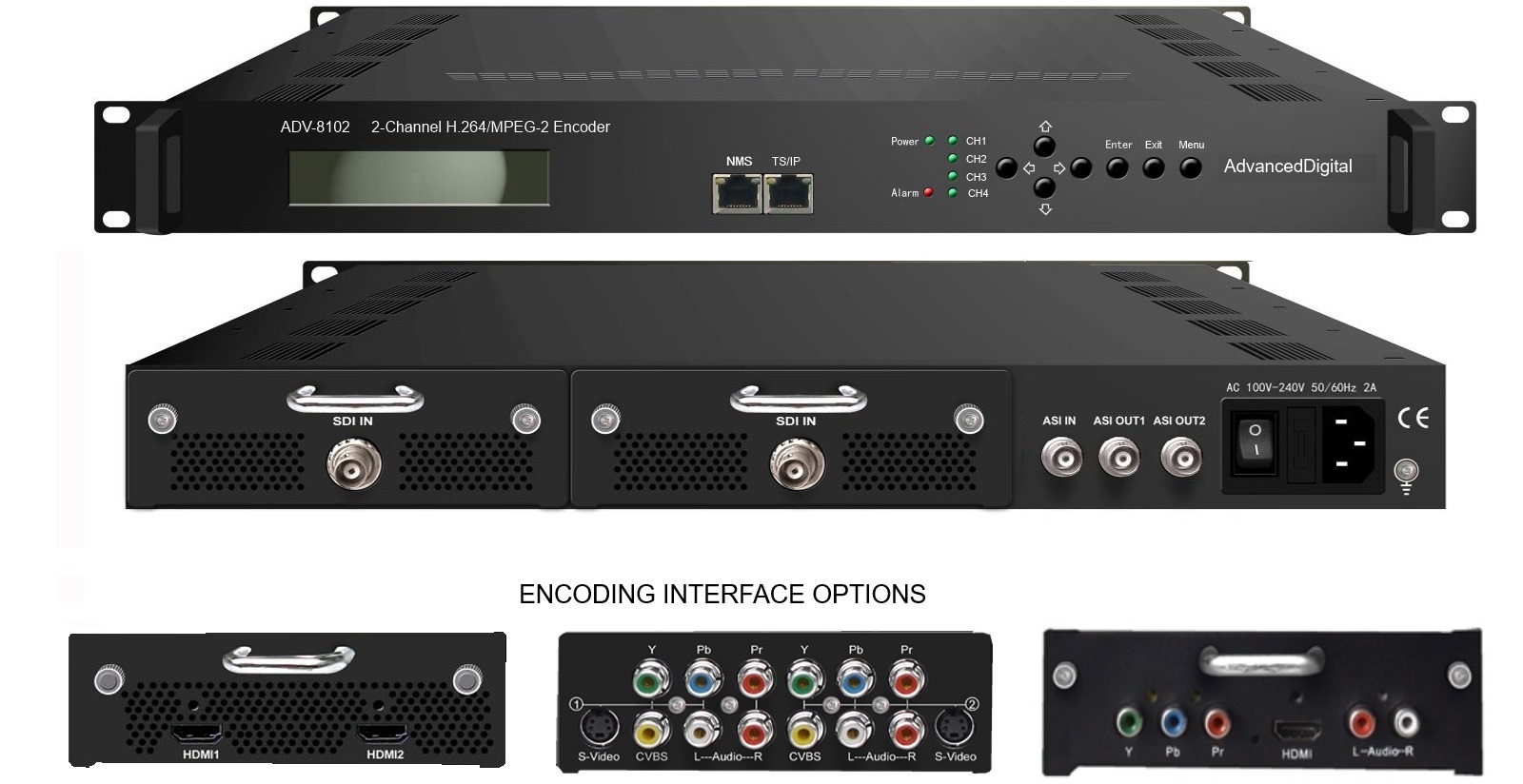 Ordering Info
ADV-8102-S  –  2-channel H.264/MPEG-2 HD/SD encoder with 2x SDI inputs

ADV-8102-S1 – Single-channel H.264/MPEG-2 HD/SD encoder with SDI input
ADV-8102-H  –  2-channel H.264/MPEG-2 HD/SD encoder with 2x HDMI inputs
ADV-8102-CS – 2-channel H.264/MPEG-2 SD encoder with 2 CVBS/S-Video/YPbPr inputs
ADV-8102-C  –  2-channel H.264/MPEG-2 SD encoder with 2 HDMI/CVBS/YPbPr inputs
ADV-8102-C1 – Single-channel H.264/MPEG-2 SD encoder with HDMI/CVBS/YPbPr inputs
Related Products