Dual-channel DVB-ASI/SMPTE-310M input, automatic switch-over and hot backup

Dual IP input (GE) ports over UDP/RTP
RF (50-860 MHz) output
8-VSB Constellation
Adaptive linear and non-linear digital pre-correction
Description
Specifications
Ordering Info
Description
ADV-8300 ATSC modulator is a high quality professional broadcast modulator designed for operation in full compliance with ATSC A53 standard for 8-VSB (ATSC) terrestrial HDTV/SDTV broadcasting. It offers a cost effective, professional solution for generating high-quality RF signals suitable for broadcasting.
The ADV-8300 can be used as a ATSC broadcast modulator, tester, or a head end of an RF distribution network. It can accept input through its DVB-ASI/SMPTE-310M and IP input ports.
The ADV-8300 supports adaptive non-linear and linear digital pre-distortion that optimizes the efficiency of the transmission. The ADV-8300 is easy to control through the front panel and the remote control interface.
Key Features
Full compliance with the ATSC A/53 standard
EN50083 ASI and SMPTE 310M interface standard
Dual channel DVB-ASI/SMPTE-310M input, automatic switch-over and hot backup
Dual IP input (GE) ports over UDP/RTP
RF range: 50MHz~860MHz, 1Hz step
Channel bandwidth: 6MHz
RS coding, data interleaving, Trellis coding
Supports adaptive linear digital pre-distortion
Supports adaptive non-linear digital pre-distortion
Built-in constant-temperature crystal oscillator
Excellent RF output performance: EVM, MER, SNR, shoulder level and etc.
Control and monitoring via front panel or WEB GUI, locally and remotely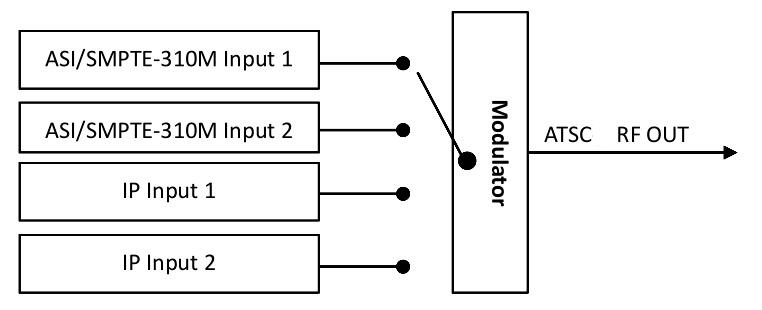 Specifications
Click on "ADV-8300 Datasheet" for technical specifications
Ordering Info
ADV-8300  –  8-VSB (ATSC) Modulator
Related Products