Encoding: 480i, 576i, 720p, 1080i
Inputs: 8 HDMI or 8 HD/SD-SDI or 8 CVBS
Outputs: 32 IP streams, 1 multiplexed IP stream, 1 ASI multiplexed stream
Description
Ordering Info
Description
The ADV-4800EC is a high density real-time H.264 HD/SD Encoder that can support encoding of up to eight HD/SD A/V signals. ADV-4800EC consists of two 4-Channel (total 8) H.264/MPEG-2 encoder modules.
All encoders are real time and independent.
The ADV-4800EC can have up to 8x HDMI or 8x SDI or 8 CVBS input ports as different factory options. The encoded streams can be re-multiplexed and output over  GbE IP and ASI ports.
ADV-4800EC has two TS/IP modes of operation. The first: "Full Duplex", can combine incoming MPTS or SPTS inputs with internal encoders, and output the result over multicast/unicast.
In the second mode,  "IPTV Output" the unit can output up to 32 individual streams over IP.
Configure, monitor and manage the device using the front panel, Web interface and SNMP.
Main Features
Compliant with H.264/AVC HP@L4.0 & MPEG-2 MP@ML
Internal re-multiplexer accepts TS from the TS/IP and ASI ports
Outputs up to 32 IPTV streams @ total bit rate of 200Mb/s
HD/SD Video Resolutions: 1080i,720p,576i,480i
MPEG1-L2, MPEG-2/4 AAC-LC/HE-AAC Audio Encoding
ASI input (for daisy chain) & Redundant ASI output
Full duplex Gigabit TS over IP I/O (with Full duplex mode)
Up to 32 multicast/unicast outputs
VBR and CBR encoding mode
Resolution downscale
Remote control/monitoring with SNMP and HTTP/Web interface
2 Redundant Power Supplies
19" x 1 U EIA standard chassis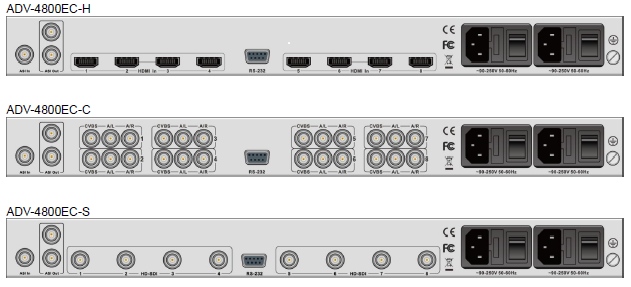 Ordering Info
ADV-4800EC-S   –   8-Channel H.264/MPEG-2 HD/SD encoder with 8 HD/SD-SDI inputs
ADV-4800EC-S-4  –  4-Channel H.264/MPEG-2 HD/SD encoder with 4 HD/SD-SDI inputs
ADV-4800EC-H     –   8-Channel H.264/MPEG-2 HD/SD encoder with 8 HDMI inputs
ADV-4800EC-H-4    –  4-Channel H.264/MPEG-2 HD/SD encoder with 4 HDMI inputs
ADV-4800EC-C     –   8-Channel H.264/MPEG-2 SD encoder with 8 CVBS inputs
ADV-4800EC-C-4    –  4-Channel H.264/MPEG-2 SD encoder with 4 CVBS inputs
Related Products