Encoding: 480i, 576i, 720p, 1080i
Inputs: 8 HDMI or 8 HD/SD-SDI or 8 CVBS
Outputs: 32 IP streams, 1 multiplexed IP stream, 1 ASI multiplexed stream
Description
Ordering Info
Description
DV-4800EC is a high density real-time H.264 HD/SD Encoder that can support encoding up to eight HD/SD A/V signals. ADV-4800EC consists of two 4-Channel (total 8) H.264/MPEG-2 encoder modules.
All encoders are real time and independent.
ADV-4800EC can have up to 8x HDMI or 8x SDI or 8 CVBS input ports as different factory options. The encoded streams can be re-multiplexed and output over its GbE IP and ASI ports.
ADV-4800EC also has ASI input and ASI output.
ADV-4800EC has two TS/IP operation modes. The first is "Full Duplex", which allows one MPTS or SPTS input stream over multicast/unicast to make a new MPTS with internal encoders, to output it over multicast/unicast.
In the second mode "32 IPTV Output" the unit delivers up to 32 streams over IP.
ADV-4800EC allows users to configure, monitor and manage over the front panel, Web interface and SNMP.
This Encoder presents perfect picture quality, high density design, high stability, and the hot-swappable power supply.
Main Features
Compliant with H.264/AVC HP@L4.0 & MPEG-2 MP@ML
Internal re-multiplexer accepts TS from the TS/IP and ASI ports
Outputs up to 32 IPTV streams @ total bit rate of 200Mb/s
HD/SD Video Resolutions: 1080i,720p,576i,480i
MPEG1-L2, MPEG-2/4 AAC-LC/HE-AAC Audio Encoding
ASI input (for daisy chain) & Redundant ASI output
Full duplex Gigabit TS over IP I/O (with Full duplex mode)
Up to 32 multicast/unicast outputs
VBR and CBR encoding mode
Resolution downscale
Remote control/monitoring with SNMP and HTTP/Web interface
2 Redundant Power Supplies
19" x 1 U EIA standard chassis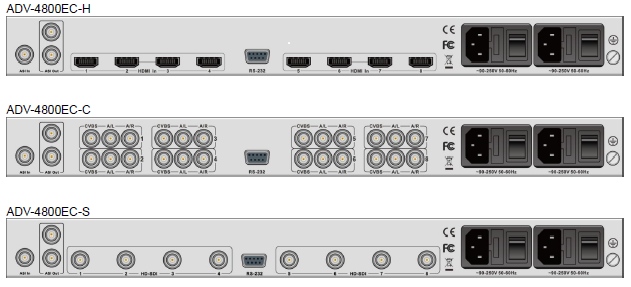 Ordering Info
ADV-4800EC-S   –   8-Channel H.264/MPEG-2 HD/SD encoder with 8 HD/SD-SDI inputs
ADV-4800EC-S-4  –  4-Channel H.264/MPEG-2 HD/SD encoder with 4 HD/SD-SDI inputs
ADV-4800EC-H     –   8-Channel H.264/MPEG-2 HD/SD encoder with 8 HDMI inputs
ADV-4800EC-H-4    –  4-Channel H.264/MPEG-2 HD/SD encoder with 4 HDMI inputs
ADV-4800EC-C     –   8-Channel H.264/MPEG-2 SD encoder with 8 CVBS inputs
ADV-4800EC-C-4    –  4-Channel H.264/MPEG-2 SD encoder with 4 CVBS inputs
Related Products