Transcoding MPEG-2<>H.264, in either direction
Transcoding up to 8 video/audio programs
Resolution resizing and bitrate reduction
8 IP and 4 Tuners inputs
Tuners selection: DVB-S/S2, DVB-T/T2, DVB-C, ISDB-T, ATSC
4x DVB-CI Slots for 4 CAMs



Description
Specifications
Ordering Info
Description
The ADV-8801 is a professional bidirectional 8-channel transcoder designed to convert up to 8 video/audio programs between H.264 and MPEG-2 formats, as well as perform resolution resizing and bitrate reduction. The device can be configured to receive multiple IP and DVB Tuner inputs with choice of DVB-S/S2, DVB-T/T2, DVB-C, ISDB-T and ATSC. Each tuner is accompanied with a CAM/CI slot to descramble the encrypt content.
The new transcoded streams can be configured to be MPTS or up to 8 SPTS and then sent to the IP or DVB-ASI output ports.
The ADV-8801 allows broadcast operators to provide high quality transcoding at an affordable cost.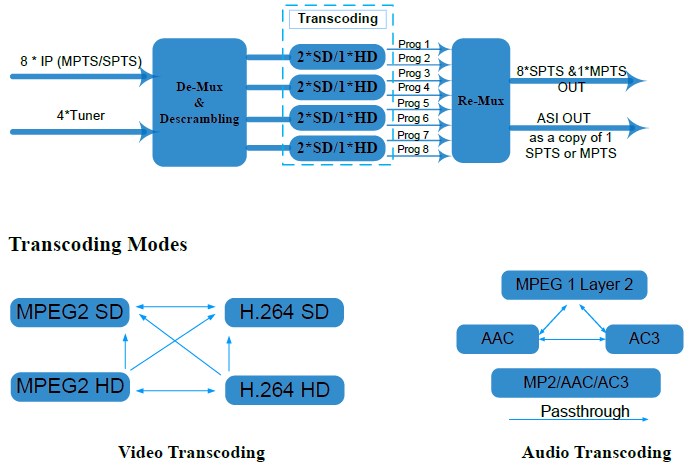 Key Features
Supports 8x IP (SPTS/MPTS) inputs plus 4*tuners input with 4 CAM/CI slots
Tuners selection: DVB-S/S2, DVB-T/T2, DVB-C, ISDB-T, ATSC
Supports 8x SPTS & 1x MPTS (UDP/RTP/RTSP) outputs; 1 ASI (MPTS) output
Video transcoding: MPEG-2 SD/HD and H.264 SD/HD (in either direction)
Audio transcoding: AAC, MP2 and AC3 (or pass-through)
Up to 8x SD or up to 4x HD programs transcoding
Up to 8x channels audio transcoding
CBR and VBR
CC (closed caption) supported
BISS descrambling
IP output with null packet filtering
Re-multiplexing functionality
Front panel and Web GUI management
Specifications
Click on "ADV-8801 Datasheet" for technical specifications
Ordering Info
ADV-8801S  –  H.264 and MPEG-2 Multichannel transcoder with 8x IP and 4 DVB-S/S2 tuners inputs
ADV-8801C  –  H.264 and MPEG-2 Multichannel transcoder with 8x IP and 4 DVB-C tuners inputs
ADV-8801T  –  H.264 and MPEG-2 Multichannel transcoder with 8x IP and 4 DVB-T/T2 tuners inputs
ADV-8801I  –  H.264 and MPEG-2 Multichannel transcoder with 8x IP and 4 ISDB-T tuners inputs
ADV-8801A  –  H.264 and MPEG-2 Multichannel transcoder with 8x IP and 4 ATSC tuners inputs