Description
Specifications
Ordering Info
Description
Highest-end modulator for satellite, terrestrial and cable standards, up to the latest standards such as ATSC 3.0. The DTA-2115B can be a single-channel 72-MHz bandwidth modulator, or it can function as eight independent 8-MHz modulators.
DTA-2115B Features
Supports every popular digital TV and digital audio modulation standard
Ultra low phase noise
Wideband upconverter 32…2186MHz, fully agile over VHF, UHF and L-band
All-digital modulation for flexibility and excellent signal quality
Digital channel simulator option including multipath echo and phase noise simulation
1-lane PCI Express gen3 (PCIe3 1x)
Modulation standards (included)
–     ATSC VSB, DVB-C, DVB-CID, DVB-S, DVB-S2, DVB-T, DVB-T2 SPLP, QAM-B, QAM-C
Options
–   Modulation standards: ATSC-M/H, ATSC-3.0, CMMB, DAB(+), DMB-T/H, ADTB-T, DVB-C2, DVB-S2X, DVB-T2 MPLP, ISDB-S, ISDB-T, ISDB-Tmm, T-DMB
–   I/Q sample playout
–   AWGN insertion
–   Multipath echo simulation
–   Remotely controlled playout
–   DTC-385-HW8CH  –  8-channel modulation firmware option
DTA-2115B Applications
The ultimate test modulator in the lab
Automatic test equipment for tuners, receivers, TV sets
With DTAPI: Create your own application that generates an RF signal that can be directly fed to any receiver
Standard Firmware – 1x 72-MHz Modulator
The standard firmware of the DTA-2115B implements a universal modulator with 72-MHz bandwidth, agile over VHF, UHF and L-band. A block diagram of this firmware is shown below. Special features include GPS synchronization to 1-pps and 10-MHz inputs, and phase noise emulation.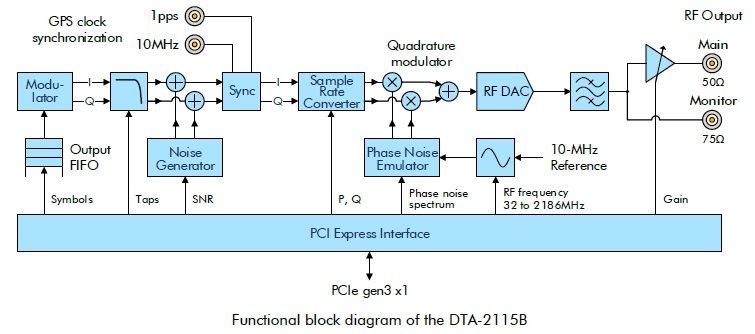 Firmware Option – 8x 8-MHz Modulators
The DTC-385-HW8CH option, also included in DTA-2115B-GOLD, enables the 8x 8-MHz firmware variant (select with DtInfo). It contains 8 independent 8-MHz modulators that can be set to different (or the same) modulation standards, e.g. 2x DVB-T2, 2x DVB-C, 3x ATSC and 1x ISDB-T.
Each of the 8 modulators is fully agile over the VHF and UHF band. The carriers can be positioned anywhere in this band, independent of each other.
Specifications
Main output RF connector                          50-Ω SMA female
Main Output RF Level Range *                  -60 .. 0dBm
Main Output Level Step size                       0.5dB
Monitor output RF connector                      75-Ω F female
Monitor Output Level                                    -45dBm
10-MHz/1pps input                                       2x 50-Ω BNC female
Frequency range                                          32 .. 2186MHz
Symbol rate  **                                              0.088 .. 85MBd
I/Q sample rate **                                         0.088 .. 85MHz
Bandwidth (max)                                         Up to 72MHz
8MHz for 8-channel firmware
Typical MER                                                42dB
Phase noise                                                  <-116dBc @ 10kHz
Spectral Flatness                                          0.5dB
Spectral Punity                                              >50dB
PCI Express                                                  PCIe3 x1
OS                                                                  Windows   2k8/2k12/2k16/7/8/10,  Linux  ≥2.6.18, 3.x, 4.x
Ordering Info
All USA orders will be shipped from our USA warehouse.
All other orders will be shipped from Canada.
DTA-2115B  –  All-standard VHF/UHF/L-band modulator for PCIe. Includes modulation standards: ATSC VSB, DVB-C, DVB-CID, DVB-S, DVB-S2, DVB-T, DVB-T2 SPLP, QAM-B, QAM-C
DTA-2115B-SP  –  All-standard VHF/UHF/L-band modulator for PCIe with StreamXpress player software.
Includes modulation standards: ATSC VSB, DVB-C, DVB-CID, DVB-S, DVB-S2, DVB-T, DVB-T2 SPLP, QAM-B, QAM-C
DTA-2115B-GOLD    –   All-standard VHF/UHF/L-band modulator for PCIe with all current and future modulation options, channel simulation and StreamXpress including remote control
NOTE: DekTec does not recommend to purchase DTA-2115B without StreamXpress software
Available Options for DTA-2115B and DTA-2115B-SP (included in DTA-2115B-GOLD)
DTC-305-CM – XpressSim channel-modelling option
DTC-370-ISDB – ISDB-T modulation option
DTC-371-IQ   – IQ samples playout option
DTC-373-IS   –  ISDB-S modulation option
DTC-374-DTMB – DTMB (ADTB-T, DMB-T/H) modulation option
DTC-375-CMMB – CMMB modulation option
DTC-376-DAB   –   DAB(+), T-DMB modulations option
DTC-377-MH  –  ATSC-M/H modullation option
DTC-378-T2   –  DVB-T2 multi PLP modulation option
DTC-379-C2  –  DVB-C2 modulation option
DTC-382-Tmm  –  ISDB-Tmm modulation option
DTC-383-S2X  –  DVB-S2X modulation option
DTC-386-ATSC3  –  ATSC3.0 modulation option
DTC-385-HW8CH –  8-Channel modulation option
StreamXpress Playout and Control Software Description
High-performance playout software
Endless play with optional automatic correction of continuity-counter, PCR/PTS/DTS and TDT/TOT fields
SOAP-based remote control to automate StreamXpress operations (DTC-302-RC option)
Saving and restoring playout parameters using XML-based settings file
Reproducible injection of errors in the transport stream with adjustable error rate
Easy-to-use control of modulation and channel simulation parameters
Related Products