12G-SDI input

Up to 3840 x 2160P60

Up to 10 bit 4:2:2
16 Audio Channels (8 stereo pairs) SDI

UDP, RTP, RTMP, SRT, Zixi streaming

Description
Specifications
Ordering Info
Description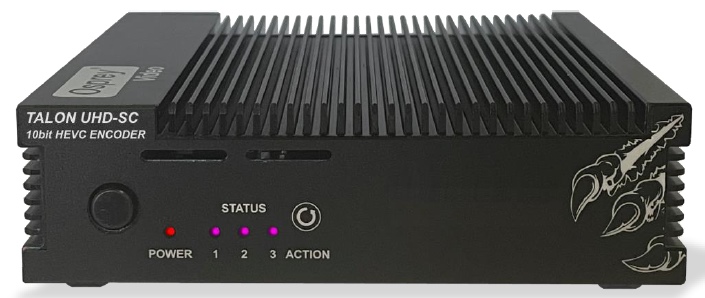 The Talon UHD-SC Professional Hardware Video/Audio Encoder supports input of up to 3820 x 2160 (UHD) 60fps video via one 12G-SDI input.
The encoder supports simultaneously streaming your video while archiving the stream to a hardware or network drive.
It supports up to 10-bit 4:2:2 color depth, deinterlacing, upscale and downscale, frame rate conversion, H.265/HEVC and H.264/MPEG-4/AVC encoding, sixteen channels of AAC-LC audio via SDI.
You can stream video via its Gigabit Ethernet port using a variety of protocols such as RTMP, RTSP, RTP, and UDP, and it supports a variety of CDN integrations.
You can save to MP4 and TS files via the USB 3.0 output and via the Ethernet port.
The encoder also supports SRT secure reliable transport protocol with multiple security features, remote firmware upgrade, embedded closed captioning, a JSON REST API, and password protection.
It features a fanless design and has a locking power jack.
Key Features
H.265 / H.264 Encoding
One Encoding channel
Video resolution: up to 3840 x 2160 UHD 60fps
Up to 10-Bit 4:2:2
RTMP, UDP, RTP, SRT, and Zixi streaming
16 SDI embedded audio channels
12G-SDI Input
Status LEDs
Web-Based Configuration
Simultaneous streaming and output to file
Video Archiving: USB3.0 and Network storage
Upscale/downscale, frame rate conversion, VBR/CBR, deinterlacing
Video encoding bitrate up to 100 Mbps
Small Fanless Form Factor
Included Power Supply
Optional: 1U Rackmount kit with active cooling for up to 3 Encoders
Back Panel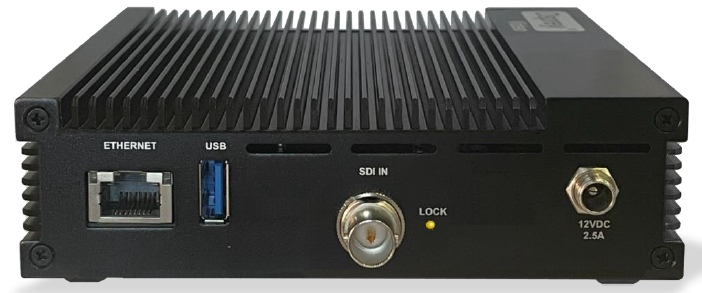 Specifications
Video Inputs
Audio Inputs
Embedded SDI 16Ch (8 stereo pairs)
Video Input Resolution
Up to 3840×2160 (UHD) 60fps
Color Depth
Streaming Transports
RTMP, UDP, RTP, Zixi™, SRT™
Number of Output Channels: 1
Number of concurrent input channels: 1
Simultaneous streaming and save to file
Saving to MP4 file
Video Processing
Upscale/Downscale, Frame rate Conversion
Deinterlacing
Video Compression:
H.264 (AVC), H.265 (HEVC)
Encoding Controls
Bitrate up to 100Mbps
VBR & CBR
Audio Compression
AAC–LC
OPUS audio for UDP, RTP, SRT, and Zixi
Audio Sample Rate:
44.1kHz, 48kHz
Audio Bitrate 64Kbps to 512Kbps
Video Archiving
Software Features
Enhanced Security Features
Remote Firmware Upgrade from Web
Network Time Protocol
JSON REST API for software integration
Password Protected
Embedded Closed Caption support
SMPTE 2038 Support
Hardware Features
Fanless Operation
Locking Power Jack
Status LED's
GigE Ethernet connection
Power
Dimensions
Operating Temperature
Available Option:
OPT-RACK – 1U Rackmount kit with active cooling for up to 3 Encoders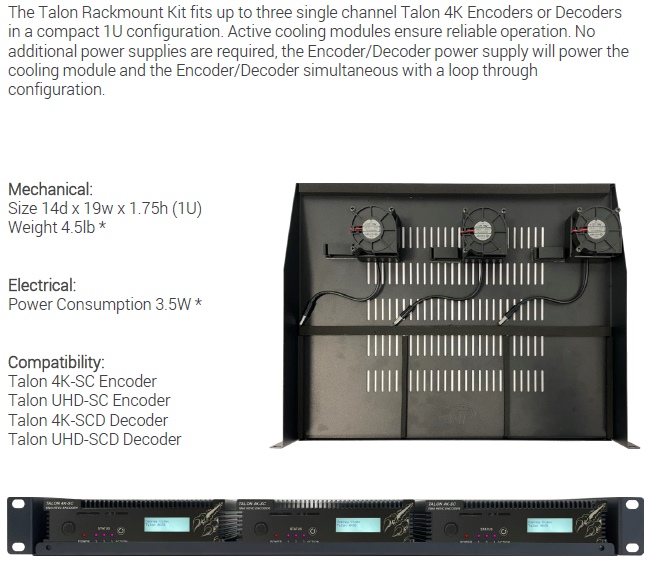 Ordering Info
Talon UHD-SC   –   12G-SDI H.265/H.264 UHD Video/Audio Encoder
Includes
Available Options:
OPT-RACK – 1U Rackmount kit with active cooling for up to 3 Encoders
Related Products