Encoding: H.264 (MPEG-4 AVC)
Inputs: 8/16/24 CVBS
IP Outputs: 8/16/24 SPTS and 1/2/3 MPTS
ASI outputs: 1/2/3 MPTS
Description
Specifications
Ordering Info
Description
ADV-8124 is high quality multi-channel professional video/audio encoder with multiplexer.     It has 8/16/24 encoding channels with CVBS video and unbalanced audio inputs.
It supports MPEG-4 AVC/H.264 video encoding and MPEG1 Layer II Audio encoding.
ADV-8124 has modular design, up to 3 standalone modules (24 channels) can be installed.
Each module multiplexes 8 encoded TS to generate a MPTS output through GE output port.
Each module also can output one MPTS through 2 ASI output ports.
High integration and cost-effective design make this device widely used in variety of digital distribution systems such as CATV digital head-end, satellite and terrestrial digital TV, surveillance, etc.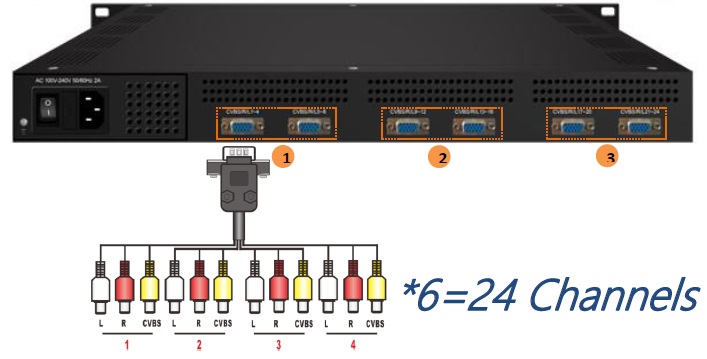 Key Features

8/16/24×CVBS video inputs with MPEG4 AVC/H.264 Video encoding
PAL and NTSC SD video formats
MPEG1 Layer II Audio encoding
Audio gain adjustment
IP (MPTS) output over UDP and RTP: 1/2/3 MPTS
IP (SPTS) output over UDP and RTP: 8/16/24 SPTS
ASI output: 1/2/3
OSD insertion: QR code, LOGO, Caption

Real-time output bit-rate monitoring
Web management control
Modular design, 1RU chassis supports up to 3 modules
Block Diagram (for 1 module)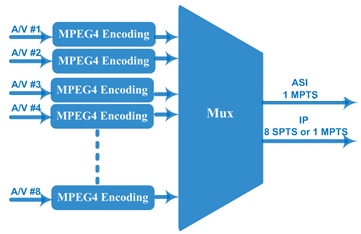 Specifications
Input
8/16/24 CVBS inputs , RCA interface
Video

Resolution

720×576i, 720×480i,

Encoding
MPEG4 AVC/H.264
Bit-rate
1Mbps~7Mbps each channel
Rate Control
CBR/VBR
GOP Structure
IPP
Audio

Encoding

MPEG-1 Layer 2

Sampling rate
48KHz
Resolution
24-bit
Audio Gain
0-255 adjustable
Bit-rate
64/128/192/224/256/320/384Kbps each channel
Stream output

IP output (one module: 8 SPTS and 1 MPTS) over UDP and RTP, unicast/multicast, 1000 Base-T Ethernet interface

ASI output (one module: 1 MPTS through 2 ASI ports (one for back up)), BNC interface

System function

Network management (WEB)

Ethernet software upgrade
Miscellaneous

Dimension(W×L×H)

440mm×410mm×44.5mm

Approx weight
5kg
Environment
0~45℃(work);-20~80℃(Storage)
Power requirements
AC 110V± 10%, 50/60Hz, AC 220 ± 10%, 50/60Hz
Ordering Info
   ADV-8124-8  –   8-channel H.264 (MPEG-4 AVC) SD encoder with 8 CVBS inputs
   ADV-8124-16  –  16-channel H.264 (MPEG-4 AVC) SD encoder with 16 CVBS inputs 
   ADV-8124-24  –   24-channel H.264 (MPEG-4 AVC) SD encoder with 24 CVBS inputs