Encoding: H.264 (MPEG-4 AVC), up to 1080p
Input: 8/12/16/20/24 HDMI channels
Output: 8/12/16/20/24  SPTS or 1 MPTS
Description
Ordering Info
Description
The ADV-8120 is a multichannel encoding device developed for the purpose of converting HDMI inputs into broadcast standard IP and DVB-ASI streams . It has a choice of 8/12/16/20/24 HDMI video input interfaces, supporting H.264 / MPEG-4 AVC video encoding and MPEG-1 Layer 2 audio encoding.
This device can simultaneously encode 8/12/16/20/24 HDMI channels.
ADV-8120 has an IP output port that supports 1MPTS or 8/12/16/20/24 SPTS IP outputs.
A DVB-ASI output port supporting ASI MPTS output is also available.
The ADV-8120's low cost makes it ideal for commercial video distribution and monitoring.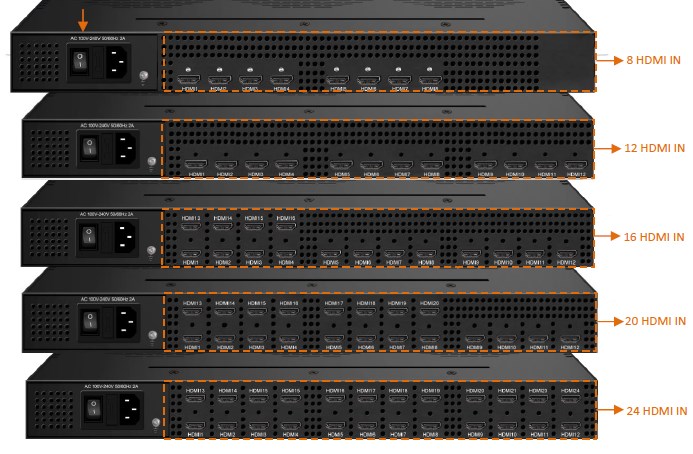 Key Features

MPEG4 AVC/H.264 video encoding format
MPEG1 Layer II audio encoding format, audio gain adjustment
DVB-ASI MPTS output
IP output over UDP and RTP
Support for QR code, LOGO, OSD insertion
Supports "Null PKT Filter" function
PID Remapping
PCR adjustment
PSI/SI edit and insertion
Web control and update
Very low encoding cost per channel
Ordering Info
ADV-8120-8  –   8-Channel H.264 HD/SD Encoder with 8 HDMI inputs
ADV-8120-12  –  12-Channel H.264 HD/SD Encoder with 12 HDMI inputs
ADV-8120-16  –  16-Channel H.264 HD/SD Encoder with 16 HDMI inputs
ADV-8120-20  –  20-Channel H.264 HD/SD Encoder with 20 HDMI inputs
ADV-8120-24  –  24-Channel H.264 HD/SD Encoder with 24 HDMI inputs
Related Products