Description
Specifications
Ordering Info
Description
ADV-8708 is a professional video/audio decoder capable of advanced decoding functionality.
It supports digital TS input through both IP and DVB-ASI inputs.
It can receive up to 8x IP streams (MPTS/SPTS, unicast/multicast) and 1x ASI stream (MPTS/SPTS).
After decoding it outputs up to 8 channels of analog A/V signals: 8x CVBS and 8 unbalanced audio stereo pairs (or 16 mono).
It also features an ASI output for passing through incoming TS to other equipment.
 Key Features

MPEG-2/H.264/AVS+ Decoding format
8x IP inputs (MPTS/SPTS, unicast/multicast) and 1x ASI input (MPTS/SPTS)
8x CVBS video and 8x unbalanced stereo (16 mono) audio outputs
Real-time bit rate monitoring
High reliability, stable performance
Front Panel LCD local and Web GUI remote control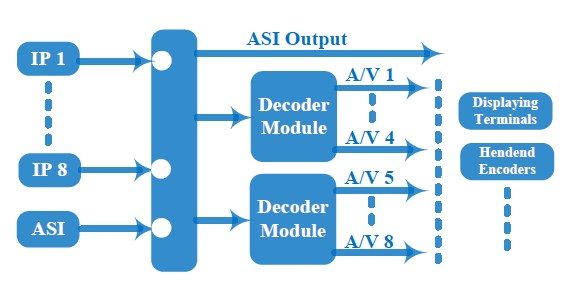 Specifications
Click on "ADV-8708 Datasheet" for technical specifications
Ordering Info
ADV-8708   –   8-channel Video/Audio decoder
ADV-8708-4  –  4-channel Video/Audio decoder
Related Products