DVB-S/S2, DVB-T/T2, DVB-C Dual Receiver
MPEG-2, H.264/MPEG-4 AVC SD Decoder
ASI and IP inputs
Built-in multiplexer/remultiplexer
2x CVBS outputs
Up to 8 TV programs (8 IPTV streams) output
2x ASI outputs
BISS Descrambler
2x DVB-CI Slots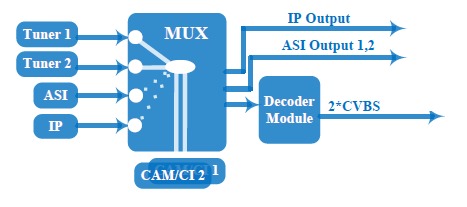 Description
ORDERING INFO
Description
The ADV-8703 is a professional dual channel receiver, decoder and an IPTV Gateway. It is equipped with 2 tuners that can support the reception of DVB-C, DVB-T/T2, and DVB-S/S2 signals. Like most professional equipment, the unit also supports TS input through both IP and DVB-ASI interfaces.
The ADV-8703 features a powerful re-multiplexer capable of creating of new transport streams by combining multiple existing sources. Customized services can be output as multiple SPTS or MPTS over IP and the 2x DVB-ASI ports. Through the two DVB common interfaces and BISS, the ADV-8703 has the capability to decrypt multiple services present in transport streams.
ADV-8703 is also a professional IRD that features 2 broadcast quality decoders for MPEG-2 and MPEG-4 AVC/H.264 in Standard Definition format, and provides 2 analog video (CVBS) outputs and 2 analog stereo audio outputs.
Key Features  
Demodulation + descrambler + re-mux + decoder in one unit
Choice of two DVB-C, DVB-T/T2, DVB-/S/S2 tuners
1 DVB-ASI & 1 IP (UDP) input for re-mux
Two CAMs, each can decrypt multiple programs from Tuners/ASI/IP
BISS descramble
MPEG2 and MPEG4 AVC/H.264 decoder
Two separate CVBS video outputs, two separate stereo audio pairs
IP (1 MPTS & 8 SPTS) over UDP and RTP/RTSP output (unicast/multicast)
2x DVB-ASI output
Maximum 128 PID mapping per input
LCD display, front panel and web management
ORDERING INFO
ADV-8703S – IRD with 2 DVB-S/S2 tuners
ADV-8703T – IRD with 2 DVB-T/T2 tuners
ADV-8703C – IRD with 2 DVB-C tuners
Related Products