Hardware H.264 encoder
Inputs: 3G-SDI, HDMI1.4, Composite
Up to 1920 x 1080P60
Embedded SDI/HDMI and Analog Audio inputs
UDP, RTP, RTMP streaming and archiving to .TS file
1 Source to 3 Simultaneous Streams
2 Sources to 2 Simultaneous Streams
LCD Touch Display
Description
Specifications
Ordering Info
Description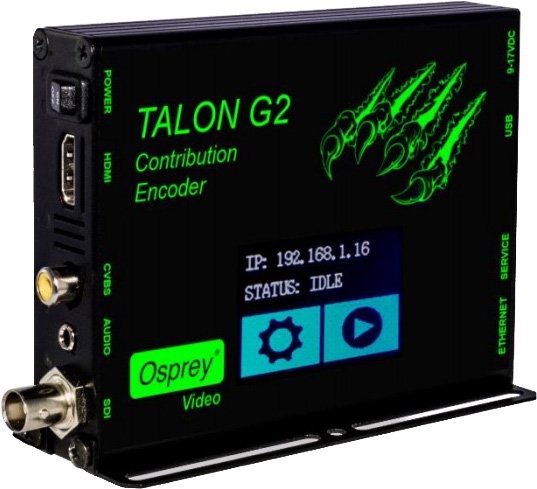 The Talon G2 Hardware Video/Audio Encoder is a professional solution for streaming and archiving live video content.
It is a small form-factor H.264 video encoder designed to be easy to use, portable, and easily stream both your standard definition and high definition content to broadband and mobile networks.
The Talon G2 Encoder can accept video from SDI, HDMI, or composite video sources and compress the incoming stream with H.264 format. H.264 compression gives the flexibility for video to be streamed over the web or easily archived without the storage impact of uncompressed video.
You can stream video via its Gigabit Ethernet port using a variety of protocols such as RTMP, RTP and UDP.
The Talon G2 Encoder features two operating modes. MBR mode allows to stream one source to three destinations, LC mode  allows two sources to be streamed to two destinations.
Key Features
H.264 Encoding
Video Inputs: 3G/HD/SD-SDI, HDMI1.4, Composite/CVBS
Audio Inputs: Embedded SDI/HDMI, additional unbalanced analog audio stereo pair input is available from front panel via a 3.5mm jack.
2 Configuration Modes:
–  MBR Mode – Allows the user to select 1 source and stream up to 3 destinations in Multiple Resolutions and Bitrates. Supports Frame Alignment for seamless RTMP MBR streaming. Output formats include RTMP, RTP, UDP and save to .TS file in resolutions up to 1080P/60.
–  LC Mode – Allows 2 sources to be streamed to 2 destinations. SDI becomes the primary input, and the user can select either HDMI or Composite as the second input. Excellent solution for Simultaneous Streaming of Camera Content and Presentations for Classroom and Boardroom.
Video resolution: up to 1920 x 1080P60
RTMP, UDP, RTP streaming
Simultaneous Streaming and Archiving
Closed Captioning (EIA-608 & EIA-708)
HTTP-Based Configuration
LCD Touch Display with the following features:
– IP address
– Status Indicator
– Encoding Start/Stop
Small Fanless Form Factor
Included Power Supply and Mounting Brackets
Specifications
Video Inputs
3G/HD/SD-SDI: SMPTE 424M, SMPTE 292M, SMPTE 259M
HDMI 1080P/60
Composite (CVBS)
Video Connectors
Composite (RCA)
SDI (BNC)
HDMI (type A)
Audio Inputs
Unbalanced stereo
Embedded SDI (1 stereo pair)
Embedded HDMI (1 stereo pair)
Audio Connector
Unbalanced stereo (3.5mm x 1)
Video Resolutions support
1080p 23.98, 24, 25, 29.97, 30, 50, 59.95, 60
1080i 50, 59.94, 60
720p 23.98, 24, 25, 29.97, 50, 59.94, 60
720 x 480 29.97, 30/i (NTSC)
720 x 576 25/i (PAL)
720 x 576 25, 50/p
Encoding
Video Encoding: H.264 –  RTMP, RTP, MPEG-2 TS UDP, .TS File
Audio Encoding: AAC-LC & AAC-HE (32 to 320 kbps)
Closed Caption
Closed Captioning (EIA-608 & EIA-708) Type 1 ATSC Picture User Data is automatically embedded in the H.264 SEI per SCTE 128-1 standard*
*Server and player must support closed caption data in order for the closed caption overlay to be available for display
LCD Display
IP address
Status Indicator
Encoding Start/Stop
USB connector
Ethernet connector
Software Control
Power Consumption
Dimensions
3.7 x 4.7 x 1″ / 93 x 120 x 25 mm  (does not include mounting brackets or connectors)
Compliance
Ordering Info
Talon-G2-Encoder – H.264 Contribution Video/Audio Encoder
Includes
Power Supply
Mounting Brackets